This report builds on the insights gleaned from ListGlobally's July luxury report, as well as provides a snapshot of 2021 leads activity in major markets. We present the latest trends in property searches in the United States based on data from our Lead Source data, results from ListGlobally survey questionnaires and validation by cross-referencing trusted sources.
Top Foreign Buyers in the United States
The effects of the pandemic have radically changed consumer behaviors and buying and selling trends in real estate markets, globally. In July, we reported on luxury buyer activity for the first six months of 2021. We wanted to assess the resiliency of the international real estate market and gain some insight into its recovery. There is good news. If you are interested in joining the international real estate market, there is no better time than now. In 2021, the pandemic incited a home-buying frenzy as a housing shortage converged with low mortgage rates and shifting workplace dynamics. Sales activity grew consistently in the second and fourth quarters after periods where pandemic waves temporarily dampened the markets.
International lead activity in 2021 followed the rise and fall of the pandemic but buyer confidence was not negatively impacted as the resiliency and evolution of the real estate market showed itself to be quite stable. As we noted in ListGlobally's 2020 International Buyer's Report, the purchase activity of Chinese foreign buyers was on the decline and that Canadian interest was on the rise. The shared border between the countries allows Canadians convenient access to a different climate and location; a 'get-away,' without the complications of international travel to another continent.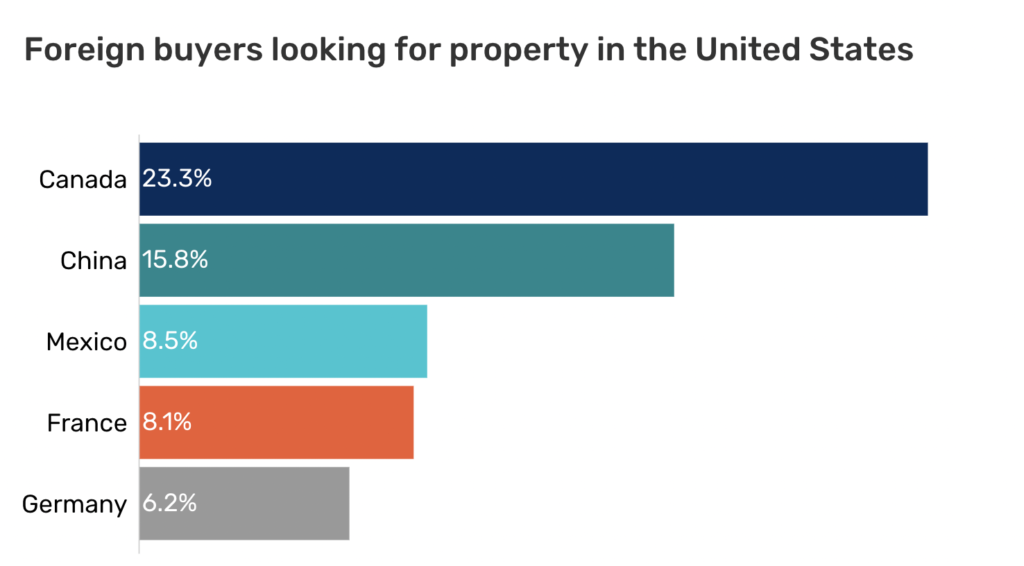 In 2021, the top five countries represented 61.9% of all inquiries for properties in the United States.
Top Regions of Interest
The top five regions of interest to international buyers looking for property in the US are:
22.5% Florida
20.4% California
13.2% New York
4.2% Texas
3.3% Hawaii
We drilled down a bit further and discovered that buyers searching in the top regions were most interested in property in these cities: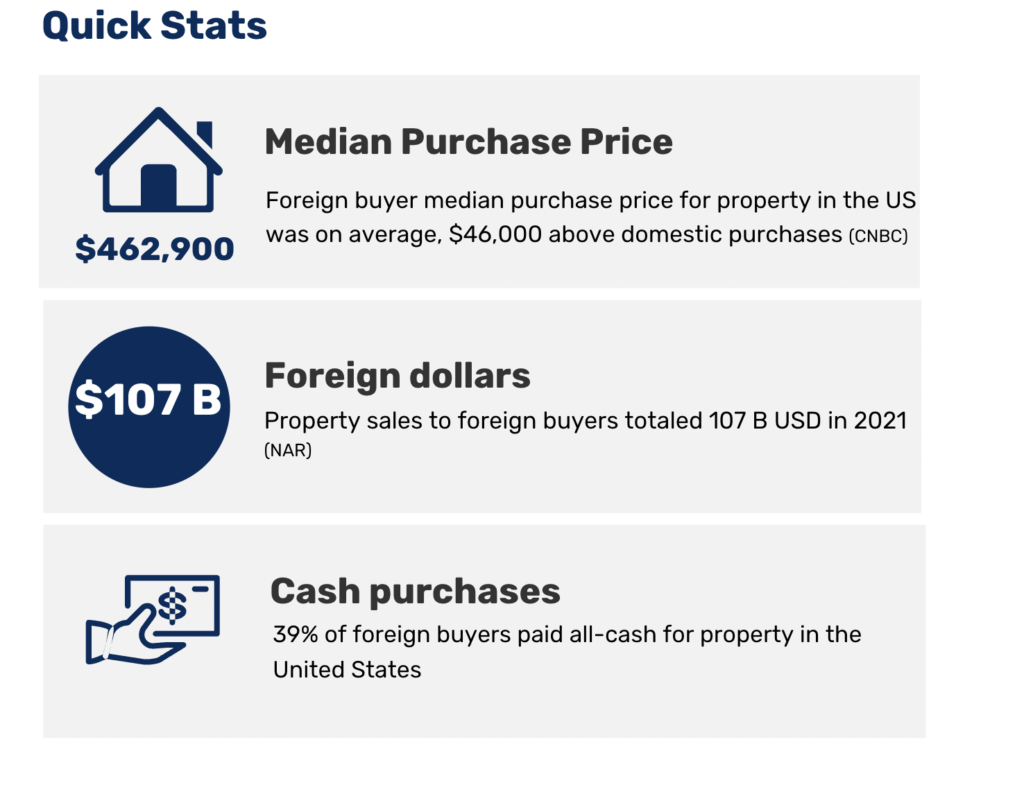 Type of property searches
Overall, 73% of our leads searched for US Homes, while 27% searched for apartments.
Of the top five countries that are looking for property in the United States, here is the distribution of searches, by price range.
Canada leads for home searches in the US for property above 2.5M and France leads for searches in the 1-2.5M price range.
Global Agent tip
In a seller's market, ask questions that will help seal the deal, like, "Other than price, is there anything that would help make this bid appealing to the seller?"
Luxury Buyers in the United States
Second-home markets did see an influx of clients ready to buy, especially if the property was fully updated. With rising prices and a competitive seller's market, luxury property sales flourished this year and are expected to continue rising.
The qualities that affluent international consumers are looking for in a property have remained prevalent in their search criteria throughout the year:
real estate that gives them a sense of security, health, safety, and privacy
a focus on work, school, socializing and entertainment activities that occur from the home.
For 2022, an additional quality for luxury home considerations may include climate-change resilient home features, as buyers acknowledge that natural disasters and extreme weather events continue to increase in frequency.
Affluent buyers, always less impacted by mortgage rates than the buyers of more modest properties, will keep this market strong through the foreseeable future, even with the expected slight escalation in prices. (2)
Compared to the July luxury buyer report, we found a larger difference between those foreign buyers who purchased luxury property priced at between 1 – 2.5 M and those that purchased property above 2.5M during the last half of the year. Luxury property priced over 2.5M in the US, saw less activity from July to December 2021, than reported for the first half of the year. This could be a direct result of the pandemic sweeping through the country during that time, putting a damper on economic activity in general for the United States, or the lack of supply in the ultra-luxe market.
State of the luxury market in major markets
Low supply for property in 2021 created a competitive scenario for international buyers, which drove prices up. International buyers understood that the seller's market meant they would pay more for their desired property, and they did!
From January to June, the luxury real estate market began to pick up with increases in luxury lead activity. Here, we show lead activity for US properties in two price categories for the remainder of the year. The volume of luxury sales activity dropped as pandemic measures increased in the country starting in July.
The average total luxury leads for Q1&2 was 11.2%, while in the last two quarters, this percentage dropped to 7.8% of all leads for US property.
Cities with the largest share of luxury housing above 5M USD:
11% Los Angeles
6.8% New York City
San Francisco, Los Angeles, and San Jose had the highest share of home listings priced over one million USD. (1)
Global Agent tip
Luxury buyers are looking for technology that offers full smart-home integration for daily living and energy efficiency.
Market Watch
We expect continued buyer demand for the 2022 international housing market, as experts predict that home sales will increase another 6.6% and home prices may rise another 2.9%. With a gradual increase in mortgage rates expected, affordability will become a top consideration for home buyers, especially for the Millennials (buyers aged 26 to 35) who are at the first-time home buyer age. Demand from this cohort should keep the market competitive despite the small increase in housing inventory as new construction and development recovers. (3)
More about ListGlobally
ListGlobally operates the largest global network of property portals in the world, advertising across +100 property portals in over 60 countries, reaching a monthly consumer audience of over +150 Million potential buyers.
Do you have questions or need more information? We invite you to schedule some time with a team member who is glad to answer your questions.
Sources:
Statista
Forbes
National Association of Realtors
Original post: https://blog.listglobally.com/u-s-international-buyer-trends-listglobally-2021-report/
Related Articles