Discover an extraordinary Dutch community where residents inhabit colossal concrete spheres that were once groundbreaking experiments in affordable housing.
As you navigate the intricate network of canals in The Netherlands, you'll encounter a remarkable array of buildings, showcasing a wide range of architectural styles, from the iconic low-country Renaissance to the innovative expressions of modernism and the early 20th century's De Stijl movement. Yet, amidst the rich tapestry of Dutch design, few examples have captured intrigue quite like the peculiar cluster of concrete orbs nestled in the neighborhood of s-Hertogenbosch, affectionately known as Den Bosch. From an aerial perspective, these structures, known as Bolwoningen or "bulb houses," may resemble golf balls, but they are, in fact, functional albeit compact residences.
The fifty Bolwoningen, situated along a canal just south of the Meuse River, represent a visionary concept of affordable housing. Conceived by Dries Kreijkamp, a creative mind blending industrial design and sculpture with a fascination for spheres, these unique dwellings captured the attention of the Dutch government during their exploration of experimental housing solutions from 1968 to the 1980s. What intrigued the authorities was not merely the novelty of the structures but rather their simple and sustainable nature. These lightweight, prefabricated homes could be assembled in as little as a single day. By 1984, a small Bolwoningen community had emerged, standing in stark contrast to the neighboring traditional residences.
While the exterior of these cement and reinforced fiberglass spheres is undoubtedly captivating, experiencing life within these structures may shed light on why Bolwoningen remained an intriguing curiosity rather than the prevailing standard in prefabricated living. Inside, a cylindrical base serves as an entrance, storage space, and utility area, leading upwards to the spherical living space measuring approximately 18 feet in diameter. The living quarters, designed for up to two occupants, are divided into three compact sections. At the top, you'll find a combined living and kitchen area, while a separate bathroom and bedroom are located below. Circular windows throughout the sphere allow ample natural light and ventilation, counterbalancing the confined spaces.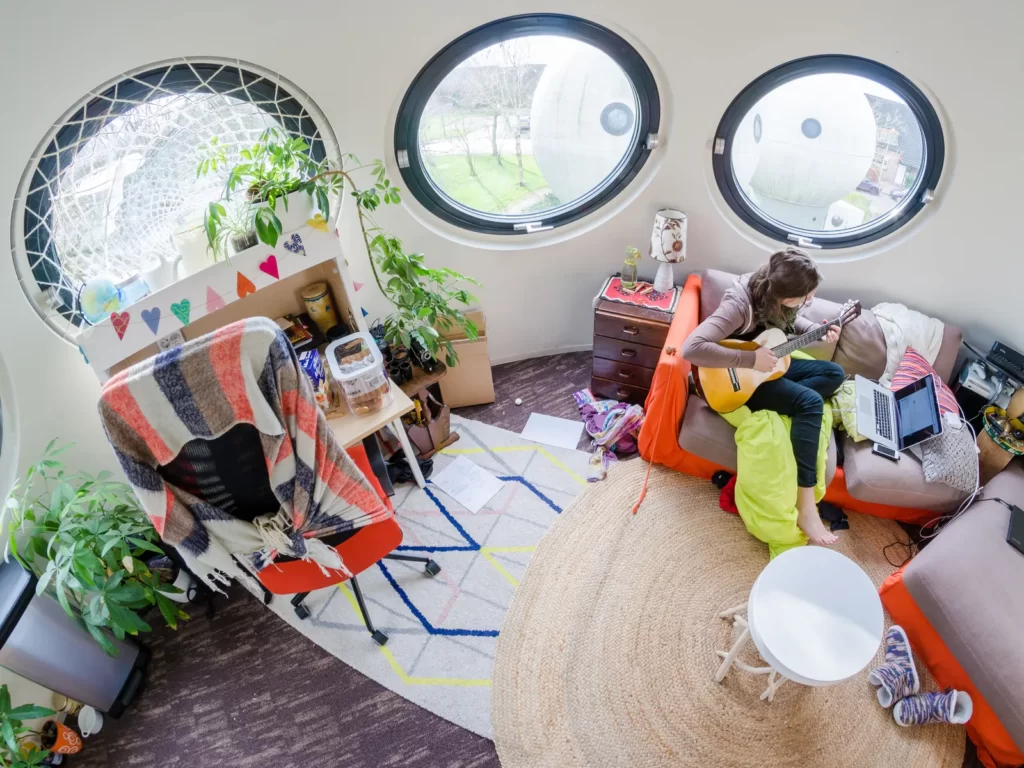 Although the Bolwoningen have remained firmly anchored for nearly four decades, Kreijkamp envisioned these lightweight structures as endlessly adaptable and transportable, potentially even capable of floating above water. However, with Kreijkamp's passing in 2014, this vision seems destined to remain unrealized. Today, they serve more as architectural relics and cultural curiosities than models for contemporary living.
Nevertheless, valuable lessons can still be gleaned from the Bolwoningen. The pressing need for simple and sustainable dwellings is more evident today than it was in the early 1980s. While certain aspects of Kreijkamp's housing vision may leave room for improvement, forward-thinking architects can undoubtedly draw inspiration from his innovative concepts.
Related Articles